The Red River Treasure is allegedly hidden somewhere between the mouth of Little Wichita River and the bridge on Highway 81. It is the remains of a robbery carried out in Bowie, Texas in 1894.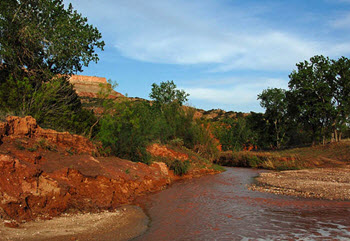 In 1894, four men robbed the First National Bank in Bowie. The robbers got away with roughly $18,000 in paper money and 500 gold pieces worth $20 each. They headed north, not stopping for rest until they reached the southern bank of the then flooded Red River on the border to Indian Territory (Oklahoma).
The authorities in Bowie were quick to send out telegrams after the robbery, and Lewis Palmore – a U.S. Deputy Marshal in Indian Territory – received a message from the Bowie City Marshal alerting him that the robbers had headed north and were expected to soon venture into Indian Territory.
When the robbers was about to leave the river bank the next morning, they noticed a posse quickly approaching from the south and plunged themselves in to the river, swimming next to their horses. Imagine their despair when they saw that another posse, this one lead by Palmore, was waiting for them on the other side.
What happened to the gold?
Palmore and his two deputies arrested the robbers and searched their saddle bags, discovering roughly $18,000 in paper money. The gold was not found – not one single piece of it.
The bandits were brought to Forth Smith in Arkansas where Judge Isaac Parker sentenced them to death by hanging. Palmore was there to witness the execution, and one of the soon to be dead robbers confided in him that the gold was hidden on the southern bank of the Red River, close to the spot where the robbers had been camping during their very last night of freedom.
When Palmore returned back home, he thoroughly searched the river bank, but never found any gold. He later passed on the information to his son, who searched the bank using a metal detector, but to no avail.
Maybe the treasure is still out there, buried somewhere between Little Wichita River and the bridge on Highway 81.