According to legend, Spanish conquistadors have hidden a large treasure in the Franklin Mountains in El Paso County.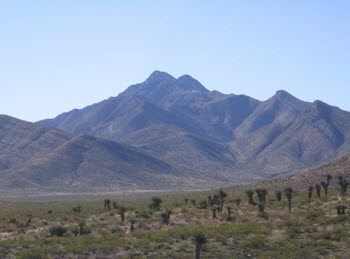 During the era of the conquistadors, the Spaniards would frequently pass through the Franklin Mountains on their way to colonize the Native American lands of New Mexico. According to legend, a group of Spanish priests used a deep mine in these mountains to hide valuables in the 1580s, before filling the shaft to protect the secret. If legend is to be believed, this lost mine holds 300 burro loads of silver.
Another legend about the Franklin Mountains tells us that in 1595, Juan de Oñate hid nine burro loads of jewels, 4,336 gold ingots, five silver bars and four Aztec codices (manuscripts) in an abandoned mine. The legend also claims that Guadalupe Mission in El Paso is built in a way that provides clues to the location of the treasure. At the right day of the year, at noon, the shadows of the mission is supposed to point to the lost mine. This treasure could be worth more than 2 billion dollar if it was ever found.  The value is calculated using standard ingot weight and the gold price provided here (1,292.28 oz / 41,548 Kg at the time I am writing this.) .
Who was Juan de Oñate?
Juan de Oñate was the son of a wealthy Spanish silver mine developer. In 1595, King Phillip II of Spain appointed Juan de Oñate as governor, captain general, caudillo, discoverer and pacifier of New Mexico – a territory yet not conquered by the Spaniards. The king sent Oñate out on an expedition with two goals: find riches for Spain and convert the natives to Christianity. Oñate was given orders to attract the natives to Catholicism using friendly means.
Like many other wealthy Spanish families, the Oñate family financed the expedition themselves, hoping it would yield them riches and prestigious titles. When Juan de Oñate set out, he was the commander of 400 soldiers, 130 families, 1,000 head of cattle, 1,000 head of sheep and 150 mares. Together, they embarked on a trek across the barren Chihuahuan desert.
The Guadalupe Mission
In 1659, Mission Nuestra Señora de Guadalupe del Rio del Norte de los Mansos was established on the southern side of the Rio Grande, in what we today call Ciudad Juárez. Situated at the strategically important pass of the Rio Grande, this church became the mother church for El Paso. Over the years, more durable buildings replaced the crude structures of the early complex. By 1680, the mission ministered to over 2,000 Native Americans.